Hiking in Southern Oregon was an enormous delight! Below I have listed below some of the trails that I did this past summer and their specs in case you are ever in the area and would like to spend your time on a gorgeous hike. I use an ap which I reference several times called All Trails. I use this ap and highly recommend it to anyone looking for hikes all over the United States.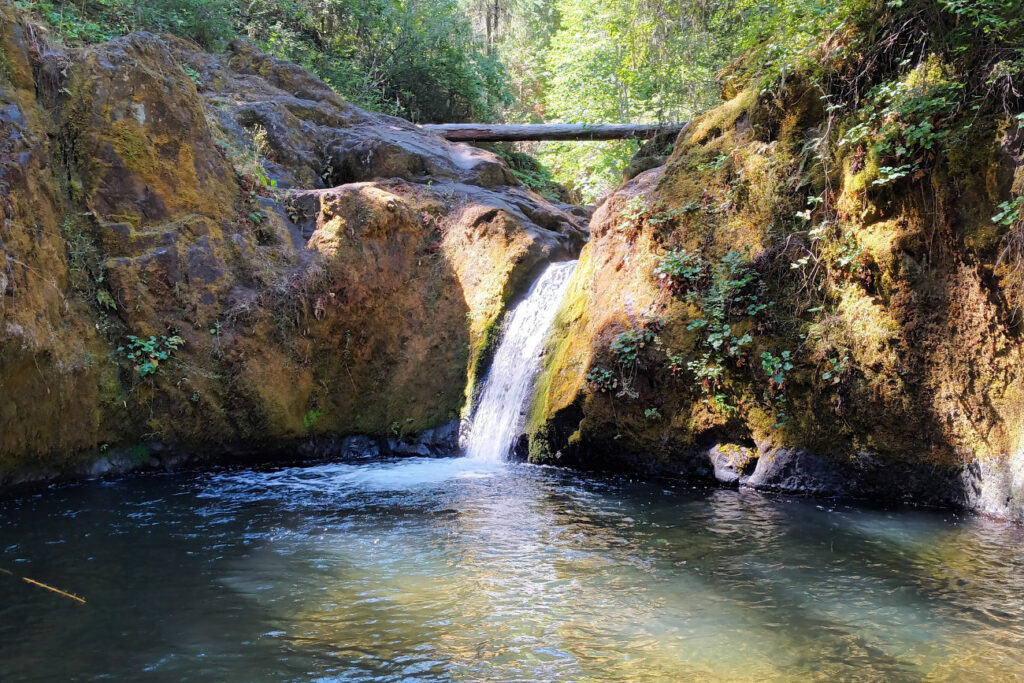 Indian Creek Waterfall
Eagle Point, OR
Hiked 7.25.22
This is a short 1.5 mile out and back hike with and elevation gain of 265ft. The trail head parking is across the bridge towards Camp Latgawa United Methodist, and to the right. The trail head itself isnt clearly marked, but it is across from the old gazebo. The road leading there from the east and north is a strenuous, extremely bumpy dirt road full of narrow switchbacks. I got tired of white-knuckling it in my rig and parked on a wide corner where there was plenty of space to park and turn around, and Anuk and I hike the remaining 1.5 miles to the trail head.
The hike itself to the waterfall is rated as moderate, but it was definitely easy and just a little bit difficult if you climb up over the falls. There is an area here to swim, and jump in, but remember the water is shockingly cold. I had the place to myself, and only saw other hikers as we were leaving.
Anuk – gives this trail 2 paws
(She doesn't like waterfalls or swimming, and there was no easy place for her to rest amongst the rocks where I sat for a bit)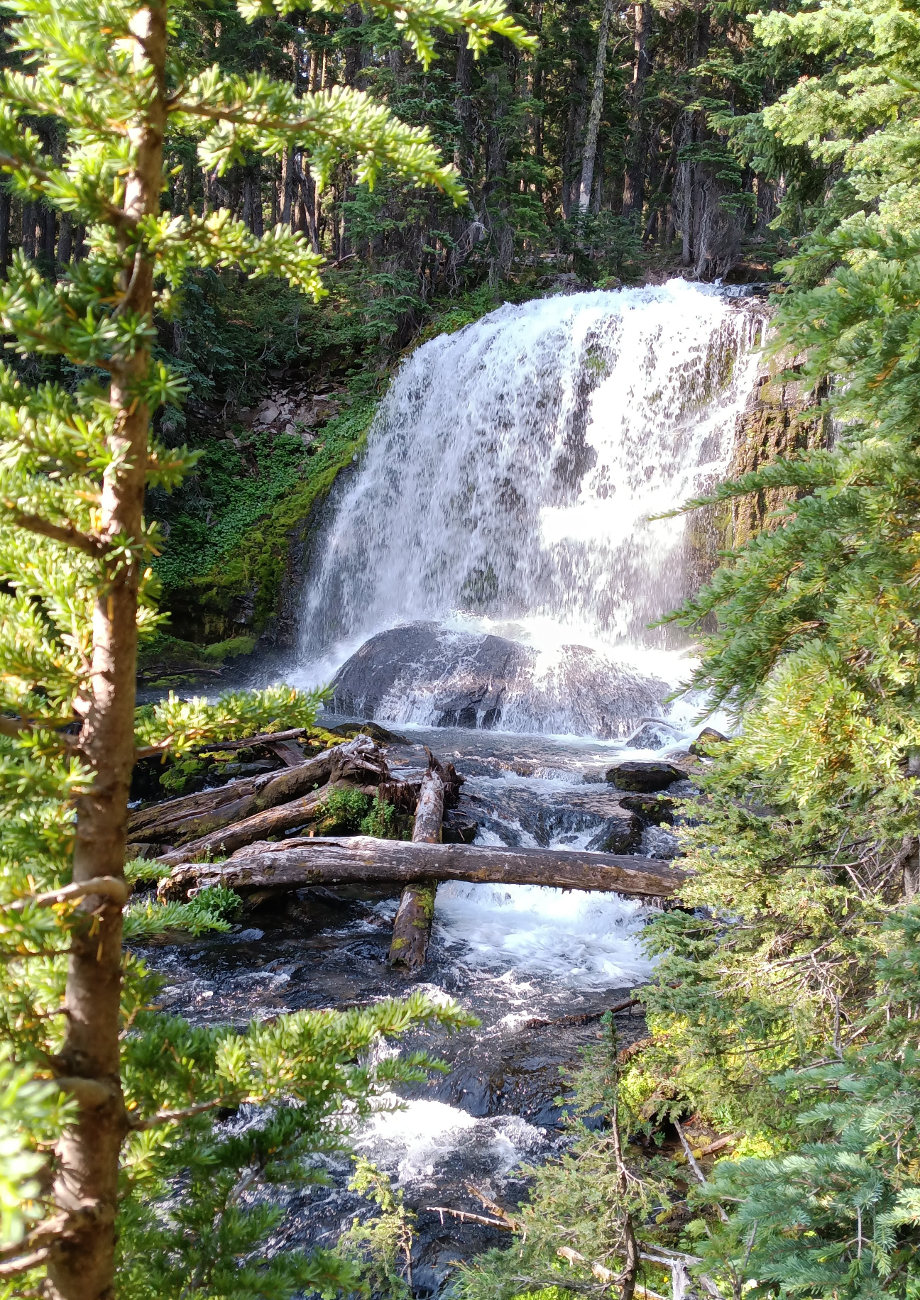 Tumelo Creek Falls
Outside of Bend, Oregon in Deschutes Nationa Forest
Hiked on 8.2.22
Note: It is listed as North Fork: Flagline loop on the All Trails ap.
This is a very popular hike in the summer, so I recommend getting there very early and keep your eye out for mountain bikers, they are more plentiful than hikers. The trail that I took is a 9.5 mile loop that goes along Tumelo Creek half of the time, which is lush and there are many waterfalls to enjoy. The other half is slightly sunny pine forest with Manzanita bushes along the treeless spots. It is a lovely hike, and best during the cooler part of the day if you get there in summer time. When I went I was the third vehicle in the parking lot, and by the time I finished the parking lot was full, and a good portion of the road leading in was lined with parked cars.
There is an elevation gain of 1,430ft, and the average time it takes is 4 hours and 15min.
There are a few other options of trails you can follow, especially if you are mountain biking and there are signs at the trail head and about 4 miles in. It costs $5 to park which can only be paid with credit card before the trail head parking lot.
This trail is listed as moderate (I would say on the harder side of moderate)
Anuk – gives this trail 2 paws
(I kept her on leash the whole first half due to all the mountain bikers, and I was able to let her off leash for the second half, which was more sun and heat than she likes)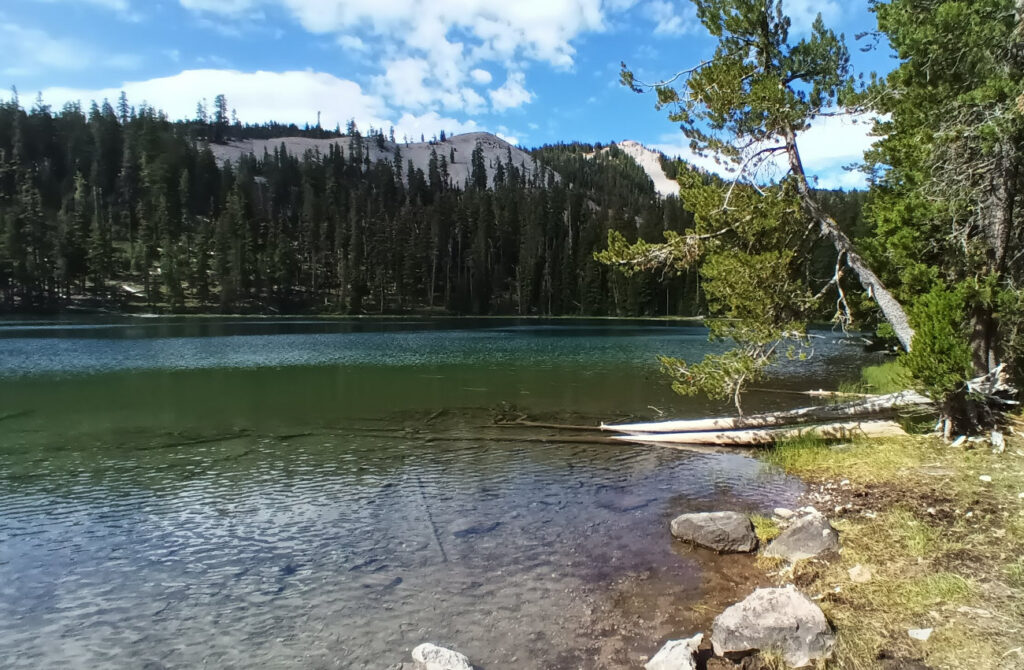 Varney Creek Trail to Lake Harriet
Near Odessa, OR in the Winema National Forest
Hiked on 8.9.22
This trail is 11.7mi out and back with an elevation gain of 2,178ft. It is a beautiful hike full of wild flowers and mostly shaded trail. It is very likely that you will be the only one on it. My solitude however, was unfortunately disturbed by a group of loud hikers who decided to swim in Lake Harriet. I passed them on my way back down and noticed one of them of them was carrying a gun. After Anuk and I had gone about a mile past them, I heard a couple of gun shots. This was unsettling, so we made our way back down the mountain in record timing.
Harriet Lake is part of the Sky Lake Wilderness, so if you continue onward you will find many other lakes and ponds. Bring bug spray in the summer, plenty of water and snacks. I always recommend that you start early before the heat of the day. This is a great trail to plan to spend the majority of your day. But if you're just hiking through, it takes an average of about 5 and ½ hours.
This trail is listed as Moderate (I would say on the easier side of moderate)
Anuk – gives this trail 3 paws
(only reduced because of the gun shots)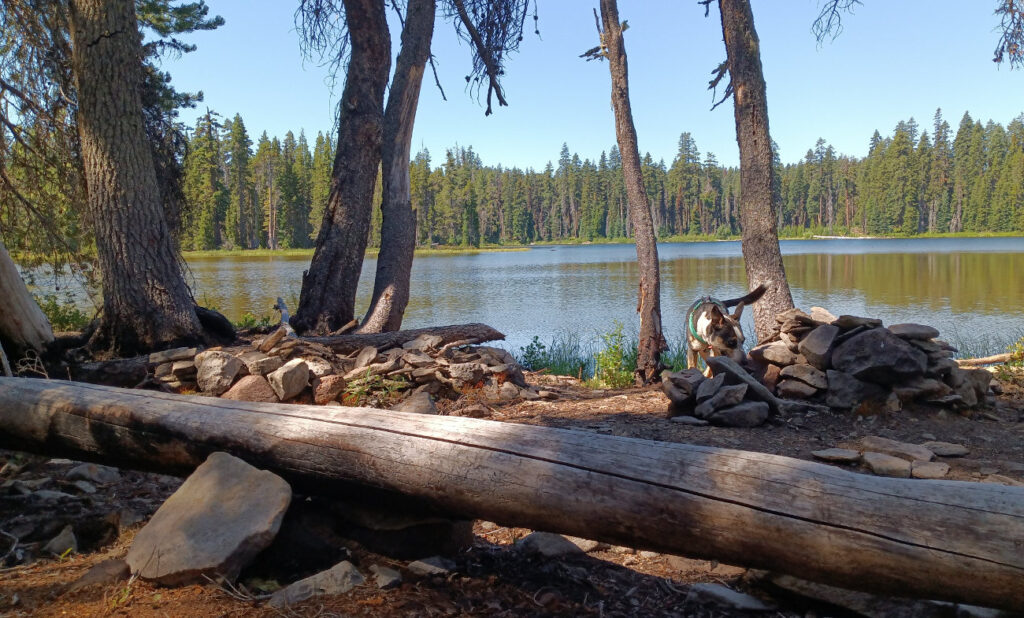 Lost Lake Trail to Island Lake
Outside of Klamath Falls, OR in Winema National Forest
Hiked on 8.16.22
The road getting to the trail head is a bit bumpy but doable, even in my giant rig. The total trail is about 4 mi out and back, and its off the route to the Cold Creek Trail. The trail head isn't marked, but it is on google maps, and there are a few parking spots, so it isn't too hard to find. This trail isn't on All Trails
Once you're on the trail, follow the signs pointing to Red Lake Trail. It crosses the Pacific Crest Trail, but head onward to the lake. There is a rough trail around some of the lake. I suggest wearing pants for bushwhacking. There are also a few mosquitoes along the trail, but I didn't notice any around the lake. I passed one hiker the whole time I was out hiking, but its very likely you won't see anyone else.
Anuk – 5 paws!
(She had endless fun running around the lake and splashing in the water. The weather was just perfect and she was full of spunk!)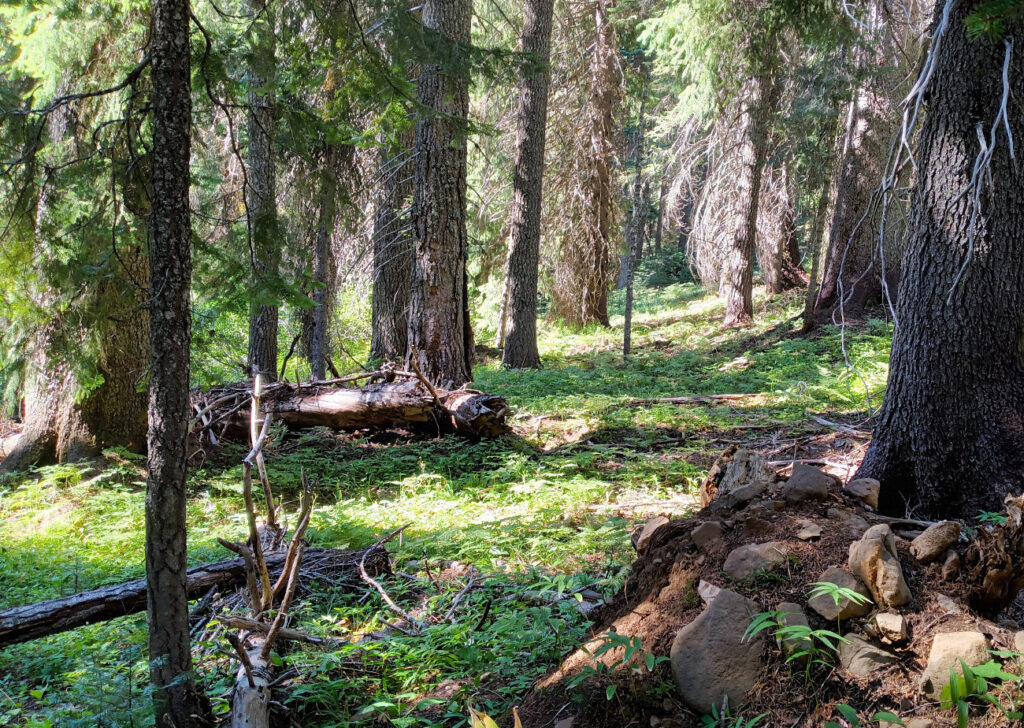 Trapper Lake via Cherry Creek Trail
Outside of Rocky Point, OR in the Winema National Forest
Hiked on 8.31.22
This trail is 11.6 mi out and back with an elevation gain of 1,486ft, and its part of the Sky Lakes Wilderness. I recommend wearing pants because there is a lot of tall, lush greenery. Also there are many small creek crossings that your feet are likely to get wet. Wear waterproof shoes and bring a walking stick to help navigate. I did not bring a walking stick, so I stumbled a bit across some of the creeks. I therefore thoroughly tested the waterproofness of my hiking boots, and they passed! My total hiking time was 4hr and 15min, and I ended up hanging out by the lake for over an hour. I saw only one other hiker when I was on my way back down.
This trail is labeled as hard on All Trails, and I would have to agree, because it kicked my butt. Of course it didn't help that the highs were in the 90's and I didn't get on the trail as early as I would have liked. The hike up was hard but marvelous. My hike back down the trail was almost more draining because of the temperature. I brought two water bottles. The bigger one I drank on the way up, and I drank part of my second one with my lunch. On the way back down I ran out of water well before the end of the trail. Poor planning on my part, I could have brought more water if I had checked the weather. The bugs weren't too bad, just a few mosquitoes at the beginning of the trail and all the sun-loving flies up by the lake. The temperature at the lake was quite nice due to the breeze and higher altitude.
Anuk – gives this trail 4 paws
(She had loads of fun crossing the streams and running around the lake. I could tell that she was dragging on the way back down also due to the heat.)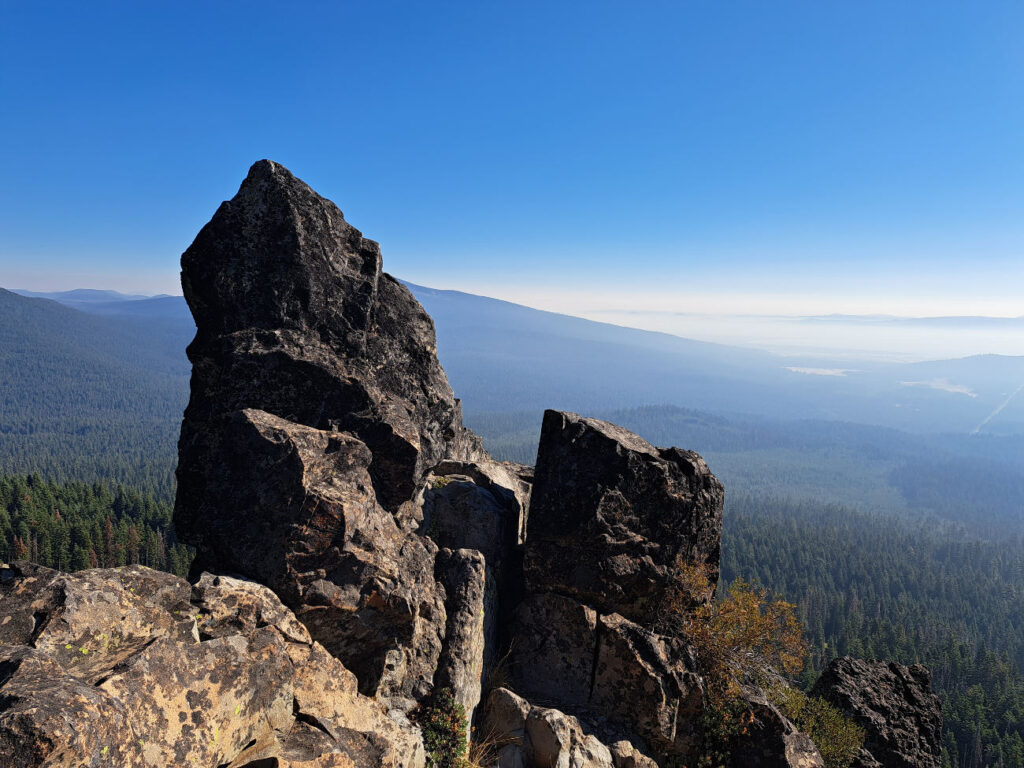 Rye Spur Trail to Four Mile Lake
Near Lake of the Woods in Winema National Forest
Hiked on 9.9.22
This is a 12.7 mile out and back trail with an elevation gain of 2,240ft. It is rated as hard, but I would say it is more on the difficult side of moderate. It is very steep at the beginning and then the ups and downs aren't very strenuous. No one mentioned the incredible vistas about a quarter of the way up, and the surprise literally took my breathe away it was so beautiful!
There was a bit of smoke looking off into the distance, but the majority of the hike was completely clear of summer fire smoke. My total hiking time was 5 ½ hours, and the weather was just cool enough to be perfect for hiking in a jacket most of the day. The road to Four Mile lake was closed, so there wasn't a soul up at the lake. There was logging going on in the area, so I could hear the chainsaws off in the distance, and I could see evidence of work in progress around the lake but no people. It gave it a eerie feeling, so we didn't stay long at the lake. We saw no one anywhere on the trail.
After all of the other trails that we hiked in Oregon, this was one of my favorites!
Anuk – gives this trail 4 paws
(She was hot and wanting lots of water on the hike down)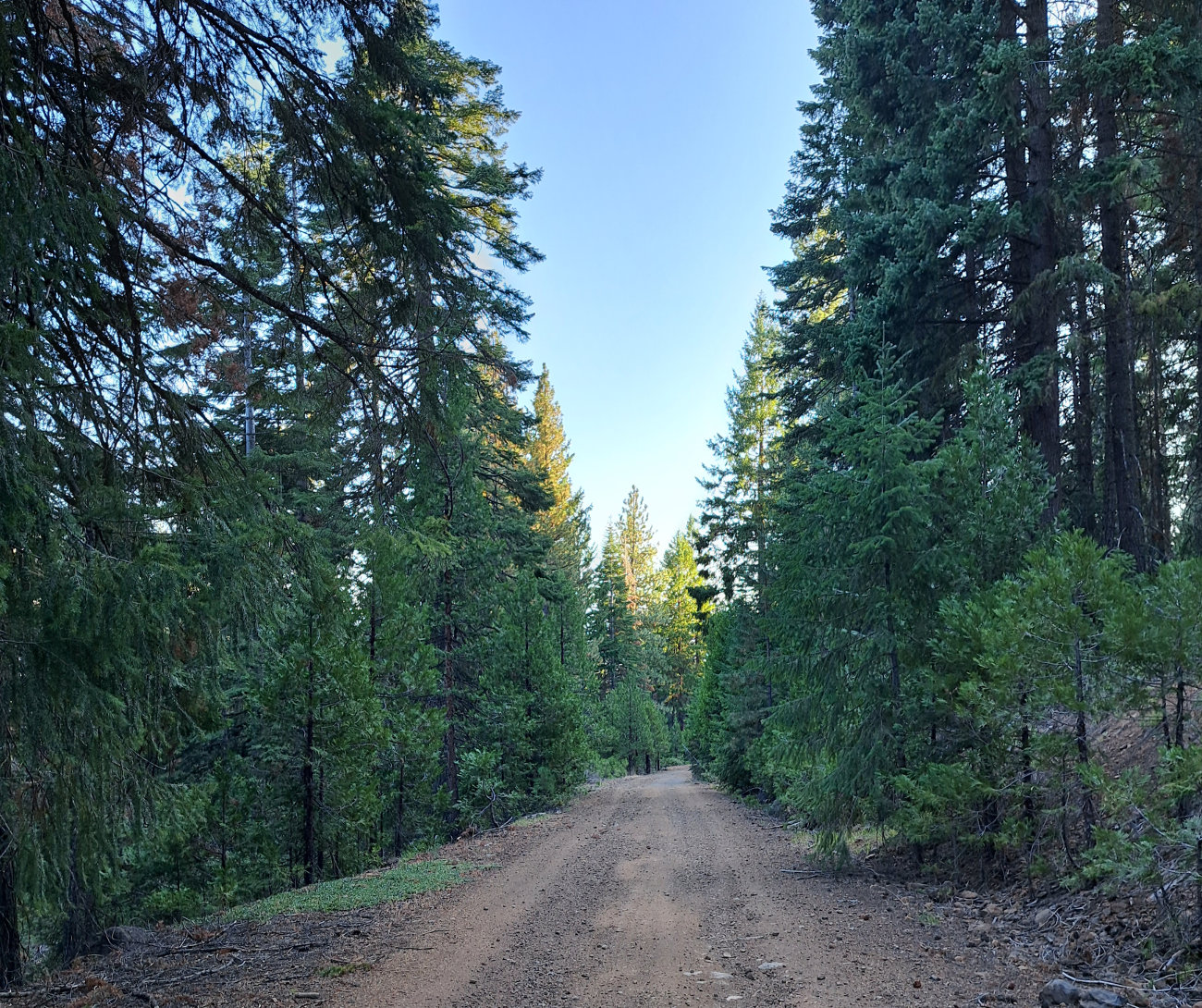 Winema National Forest Road
Rocky Point, OR above Jim and Mata's property
This is a 6 miles gravel road that leads up into the forest. There are a couple of rough and steep fire roads that lead up to it, and open forest to climb to get to the fire roads. They all lead up and out. Wearing good hiking boots is preferred. This is where I took Anuk almost everyday for her walks/hikes. Sometimes we did loops around the fire roads, and sometimes walked straight up the forest road, and other times took the various forest roads that lead off the main one. We almost never saw anyone else, and Anuk had the freedom to roam free and chase chipmunks and squirrels to her hearts content. Often if I couldn't find her, she had already returned to the bus before me. This is the area where I foraged for morel mushrooms in the spring, and collected buckets full of black-cap raspberries in the summer. We usually spent at least thirty minutes hiking, sometimes I took my bike, sometimes I ran, and sometimes we hiked for several hours. It was a delight to have access to this area the whole time I was living in Rocky Point, OR.
Anuk – gives this trail 5 paws
(It was the highlight of her day everyday we went out into the woods!)